Rose Quartz and Serenity Pantone Colour of the Year 2016
Rose Quartz and Serenity Pantone Colour of the Year 2016
Happy New Year to you all! Many thanks to all our clients in 2015… thanks for the faith you had in us to design and transform your events. We keep doing what we love because of you. And to all our readers, thank you for following our blog. May this year bring you lots of peace and joy.
2016 has been predicted to be all about calmness and peace, so there you are!, its already looking promising.
For the first time ever, Pantone decided to go with two colour shades as the colour of the year 2016. Their picks were Rose Quartz and Serenity. [Bet you wondering what on earth quartz or serenity is…, you are not alone.Stay with me as we unveil these mystery colours.]
According to Pantone, Rose Quartz is a persuasive yet gentle tone that conveys compassion and a sense of composure whilst Serenity is weightless and airy, like the expanse of the blue sky above, bringing feelings of respite and relaxation even in turbulent times.
Eiseman, the executive director of Pantone Institute stated that Rose Quartz and Serenity joined together, demonstrate an inherent balance between a warmer embracing rose tone and the cooler tranquil blue, reflecting connection and wellness as well as a soothing sense of order and peace (Leatrice Eiseman, 2015).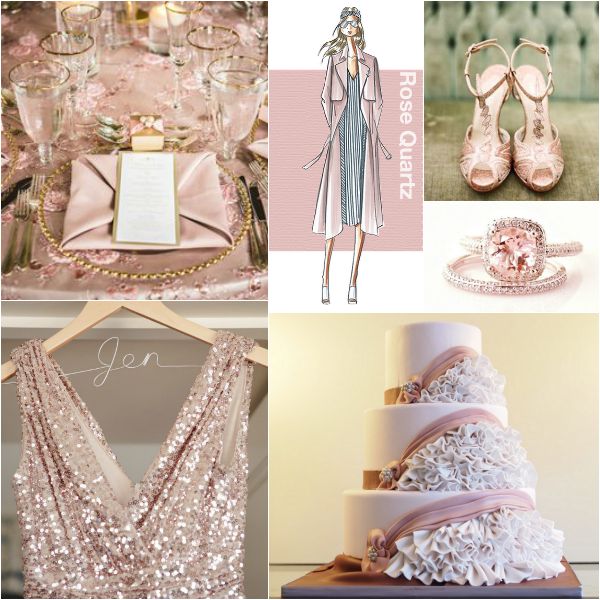 Whether in soft or hard surface material, the pairing of Rose Quartz and Serenity brings calm and relaxation. Appealing in all finishes, matte, metallic and glossy, the engaging combo joins easily with other mid-tones including greens and purples, rich browns, and all shades of yellow and pink.
We at Stages and Phases are already seeing both colours coming to play in designs drawn up for our 2016 clients. It is definitely a beautiful blend of warmth and tranquillity and conveys a sense of peace and freedom and we can't wait to see it come to live. In a world where there seem to be trouble and turbulence everywhere, anything that ushers in a sense of peace is needed even in terms of colour hence it's not surprising we are getting obsessed with the metallic tone of Rose Quartz and the touch of glamour it brings on the table
https://www.pantone.com/color-of-the-year-2016
Image source: http://www.mazelmoments.com/blog/26262/top-10-colors-spring-2016-wedding-mitzvah-party/